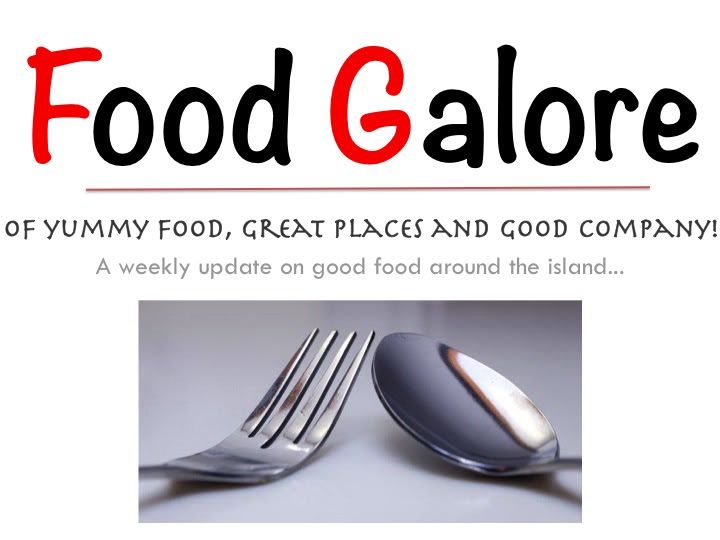 Massive blog posts with lotsa pictures!
Amidst the busy schedules, we managed to catch up over dinner!
With my two bitchy pals! =)
I was quite sick (and still am), so I didn't eat much =(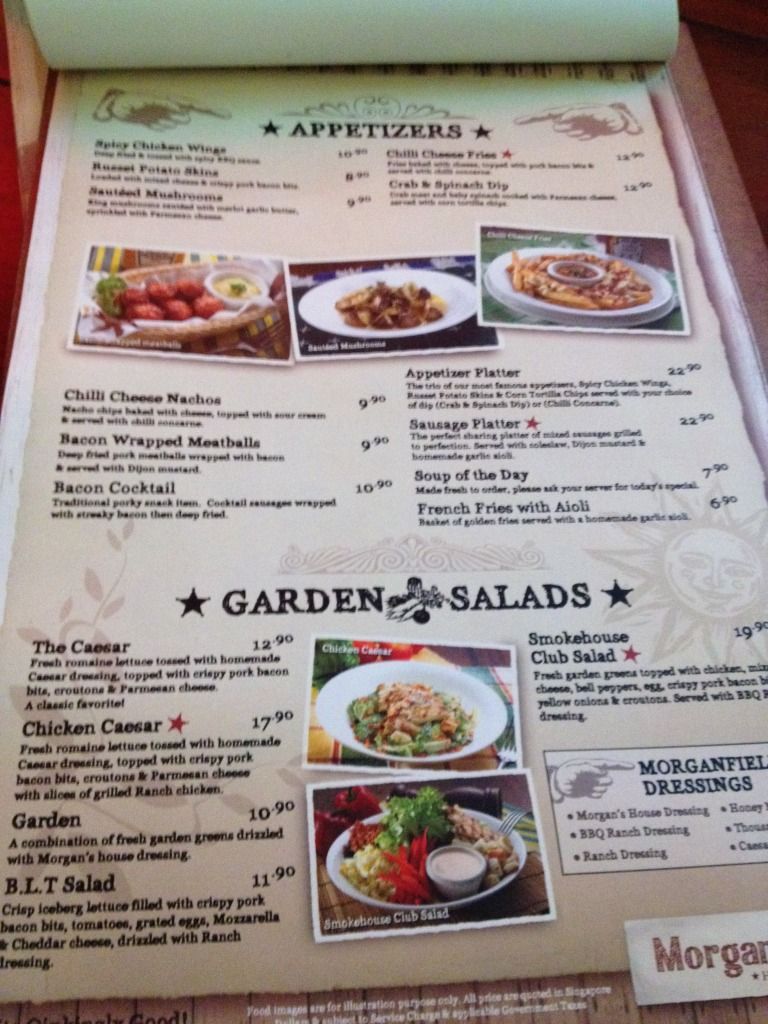 Morganfield's
#02-23 The Star Vista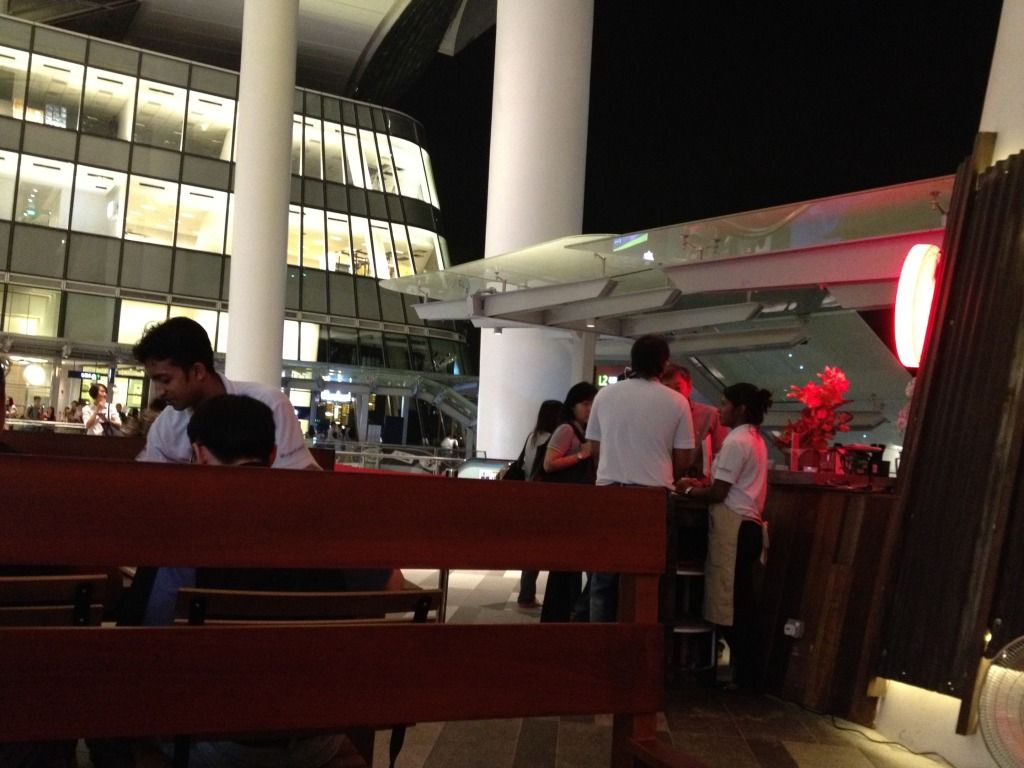 Not my first time to Star Vista and it's getting more and more crowded!
We couldn't make a reservation before we went down and they told us to try walk in.
Lucky for us, we had a very big table to ourselves, away from the rest of the crowds.
Reached around 7.30pm and it was already quite packed and but we still managed to get a table!
Drinks
- Strawberry apple mojito (GB's) and Long Island iced tea (mine)
With Chewy's new toy in the background.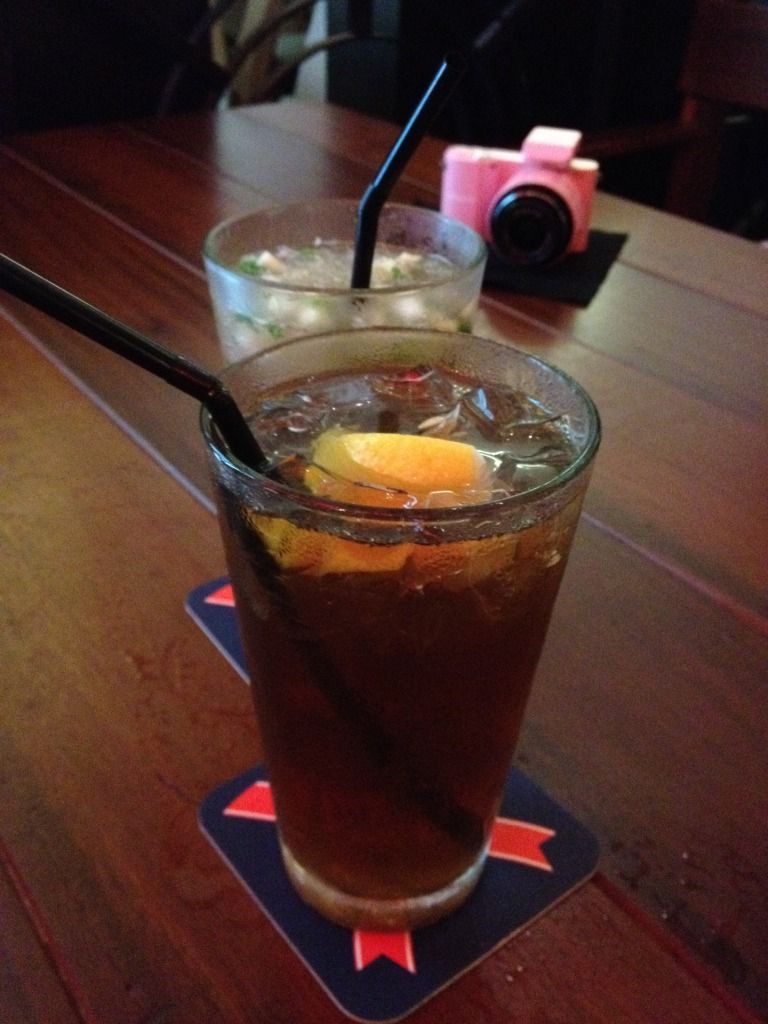 Yup! Chewy is studying her new camera intently.
When I showed her how to use it, she went "Wow! Ah! Ooohhh"
LOL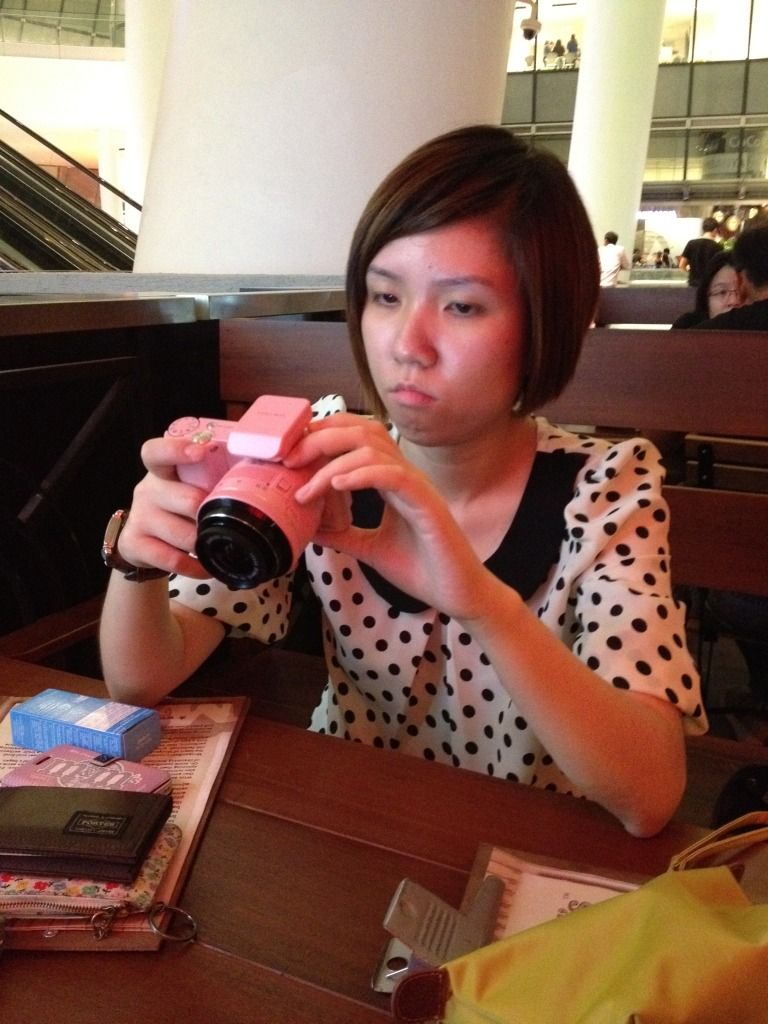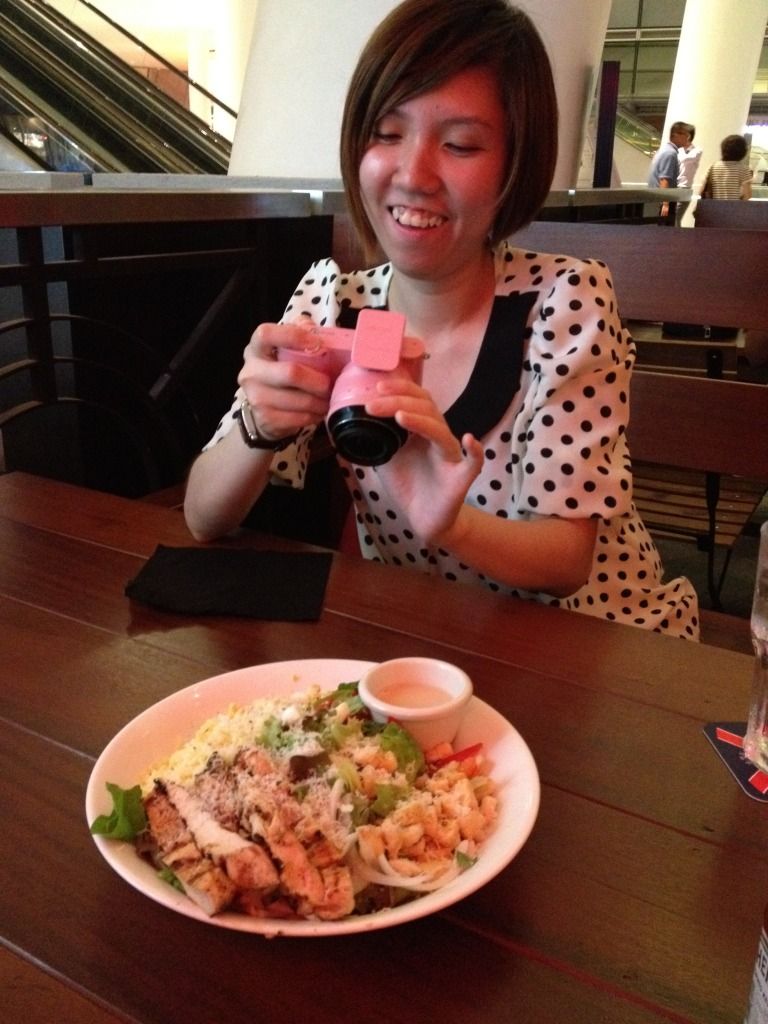 Food is here!
The kitchen got the sides wrong and we sent it back.
Then the waitress was nice enough to just leave the sides as it is, and offer us the right sides (i.e. fries) in a tray.
Left: Smokehouse Club Salad (mine)
Right: Fries in a tray (GB's)
Being sick, I didn't wanna risk it and opted for the safest option: salad.
Very big bowl but I couldn't eat much, so it's kinda wasted if you eat it on your own. Good for sharing though.
Takes away the overwhelming meaty feeling if you only order ribs and steak.
Chewy's 250gm Sirloin Steak
Chewy ordered medium rare but it turned out a bit more medium than medium rare.
She didn't really like it. But she loved the caramelized onions and sautéed onions though.
They came at a hefty price of $2.50 each for the extra topping. And you can see from the picture below, the serving is REALLY small for $2.50.
GB's Hickory BBQ Spare Ribs
The meat is really tender! But I didn't try the BBQ sauce coz I had a bad throat that day.
Not a fan of spare ribs but this is very soft and not dry at all.
Mashed potato is good too.
My bitchy pals: Chewy and GB!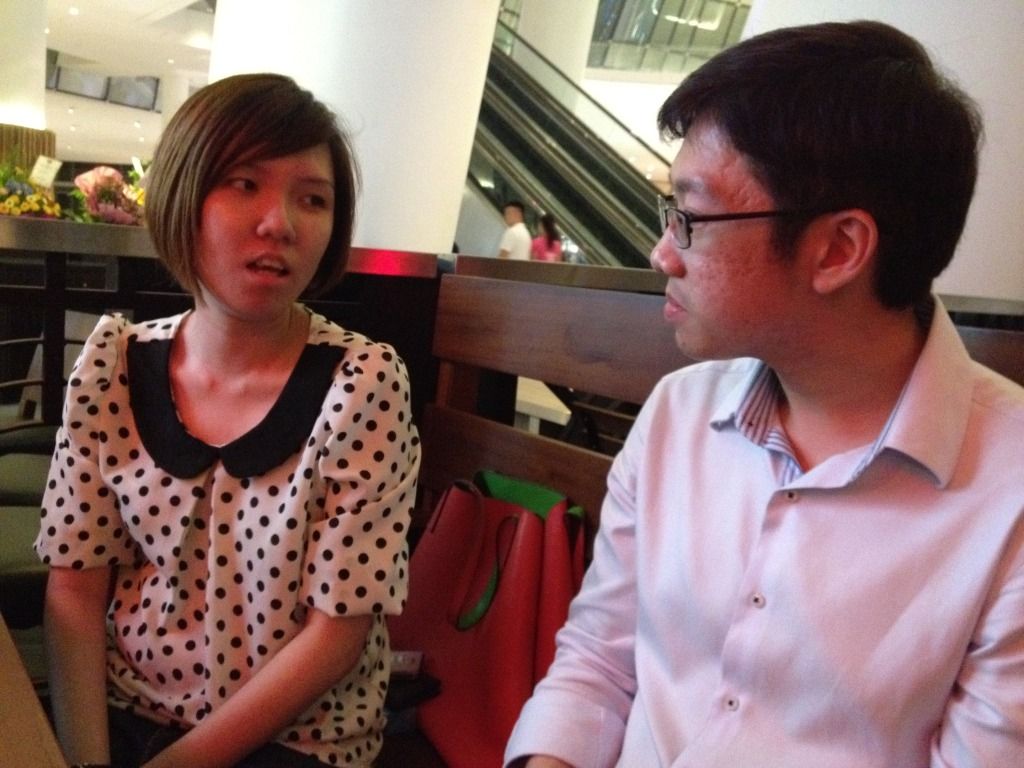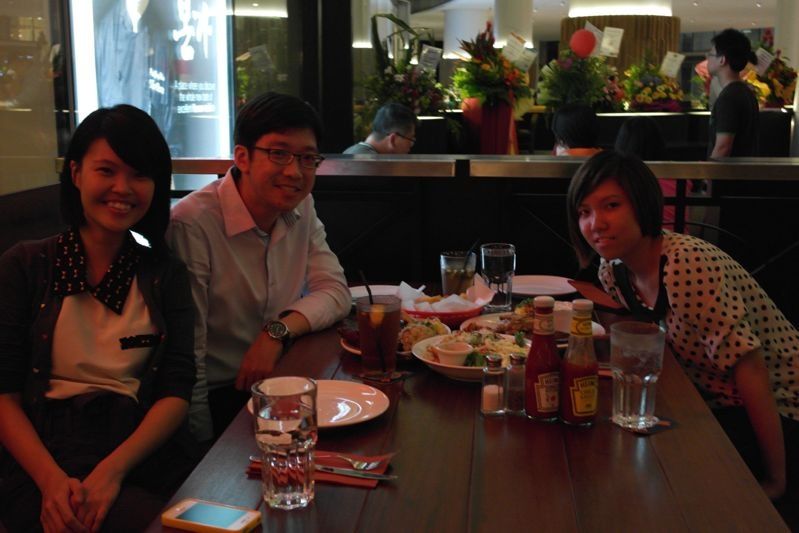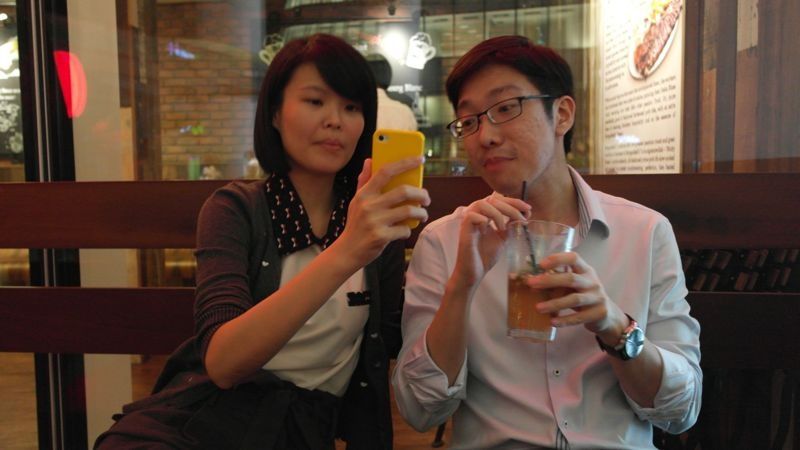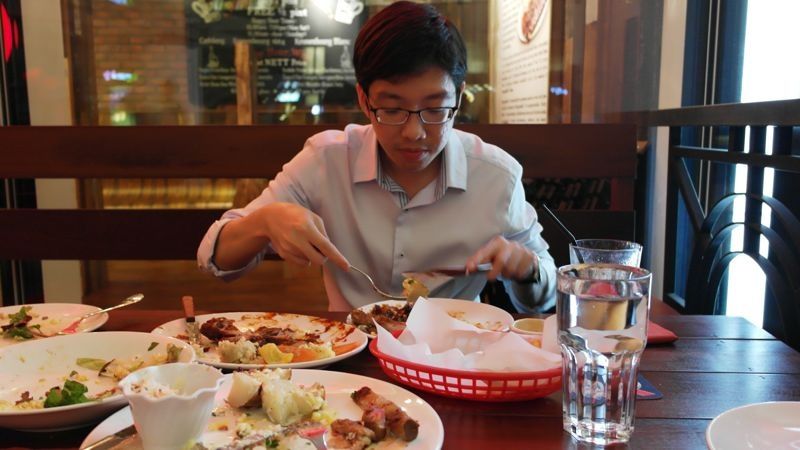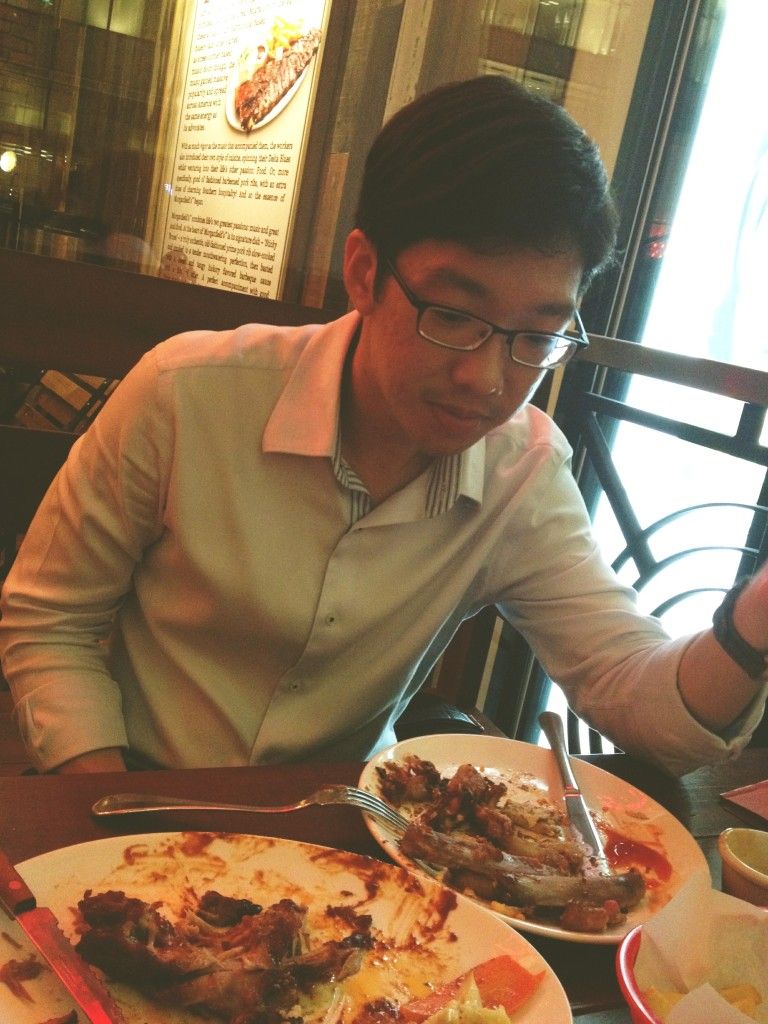 We spent the night talking and laughing damn loudly, playing with Chewy's camera and trying to get good shots of everyone.
In the end, Chewy's best shot of the night was taken on my iPhone (by me, of course).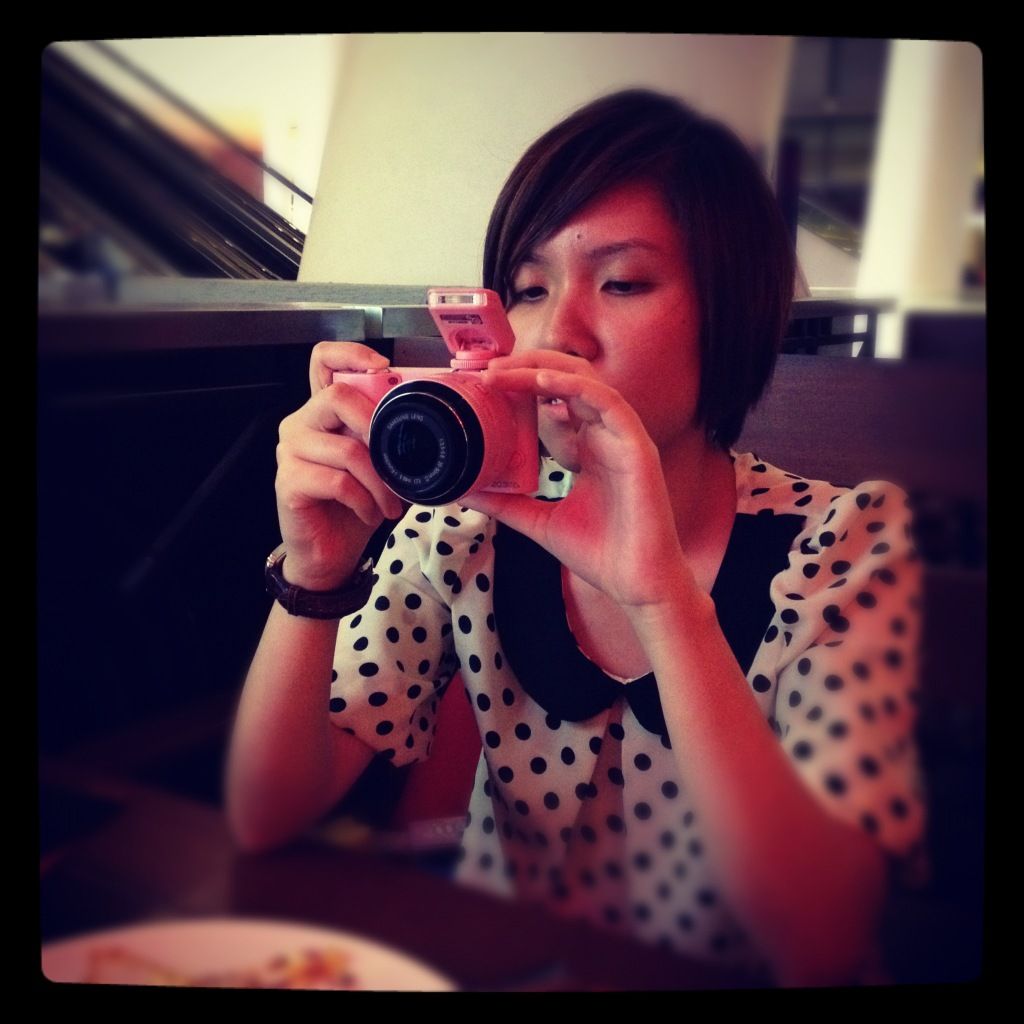 They were amazed by the camera app and took shots of me too!
It's just Instagram, actually........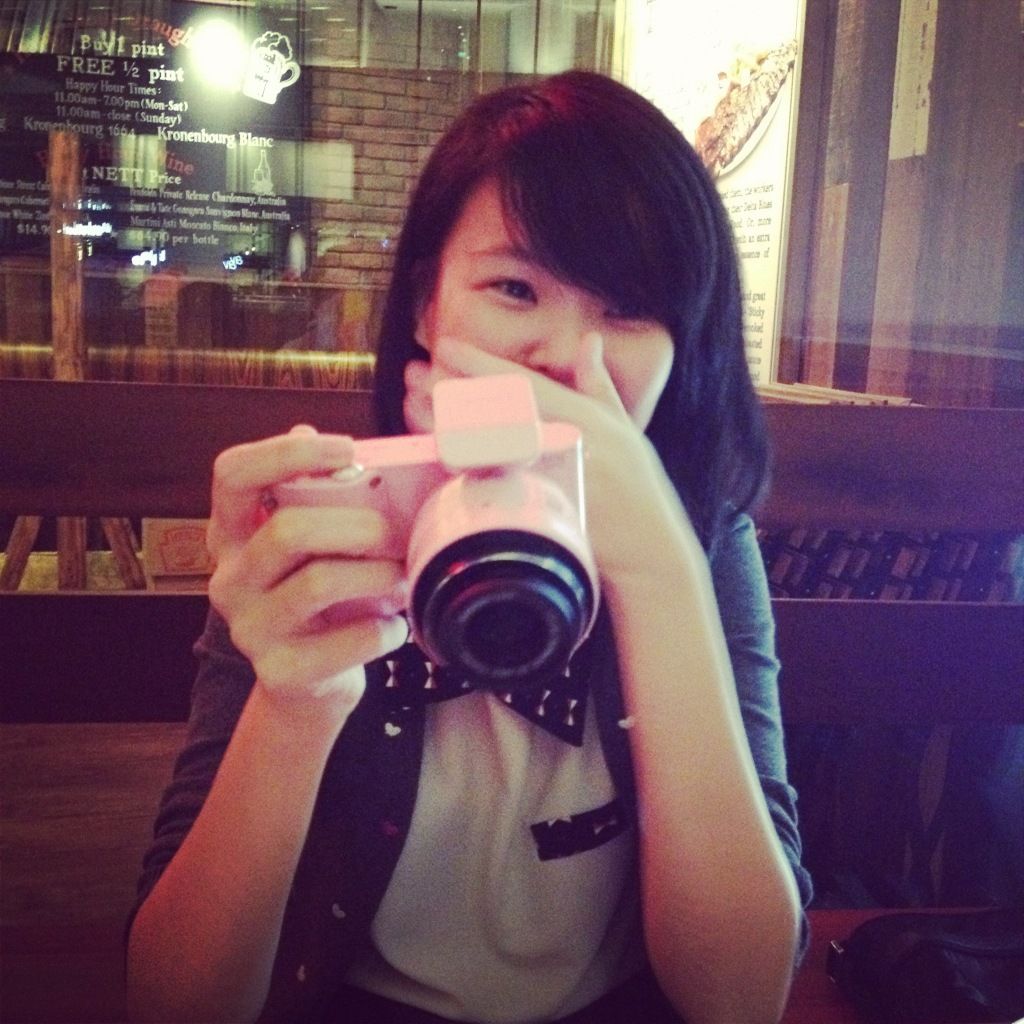 We moved onto desserts and tea at Owl Cafe!
OWL Cafe
#02-10/11 The Star Vista
Me and Chewy!
Damn, my face looks so big beside hers. Next time, can I hide at the back?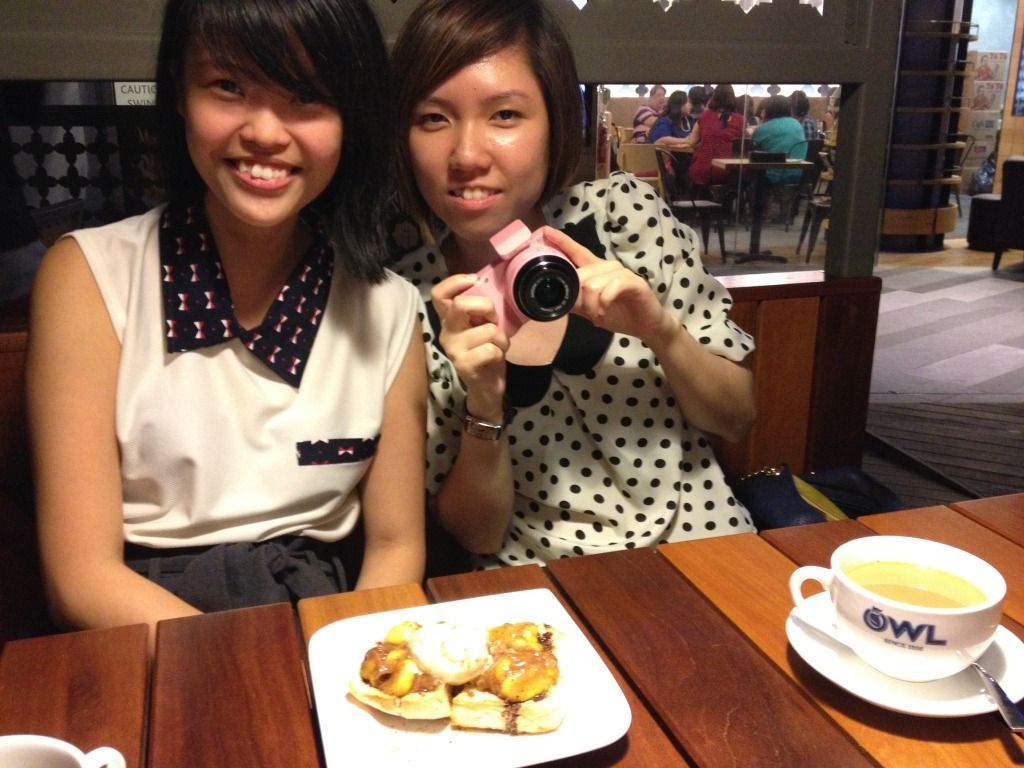 And here we go again! CARAMELISED!
It was the joke of the night because it's a bit hard to read this word initially.
After we got the hang of it, we just kept saying this word.
And then we saw it again in the menu and started laughing. So we just had to order it!
When the waitress repeated our order, she said:
"1 teh, 1 teh-o, 1 coffee cham teh"
"And one............. banana chocolate. Correct?"
Chewy and GB were so disappointed that she didn't read out Caramelised!
They were just waiting for her to read it out but she didn't!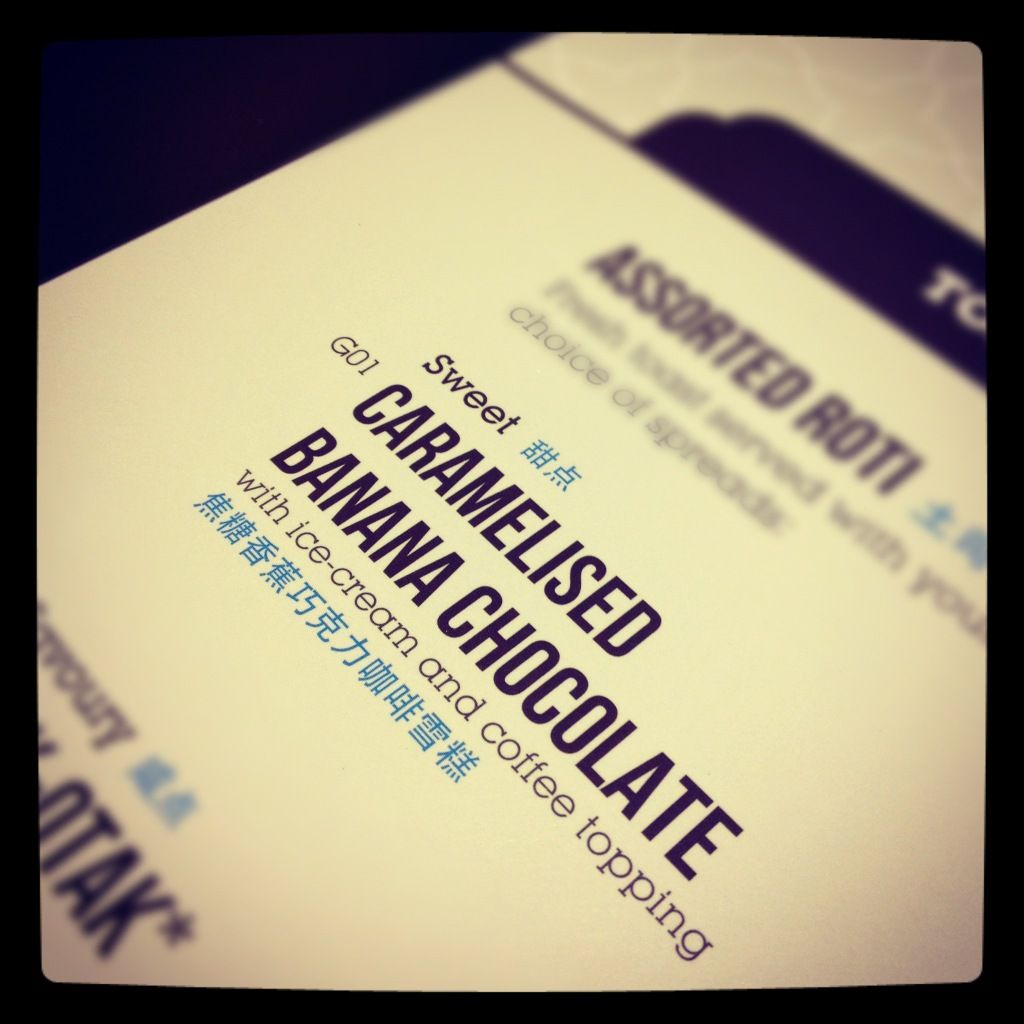 And here's the CARAMELISED banana chocolate!
Very strong banana taste and the caramel was a bit too sweet for my liking.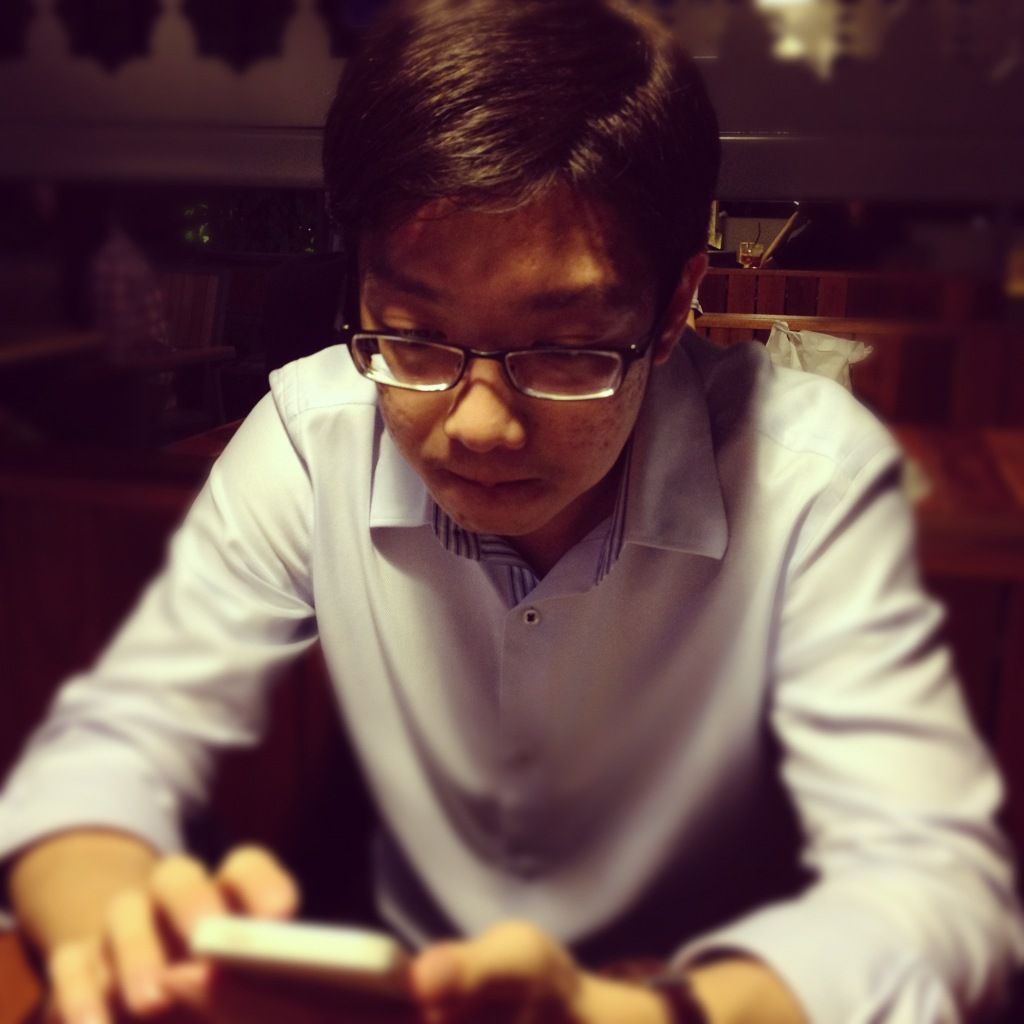 A very great night with my pals, laughing all the way!
I look forward to our next bitching session!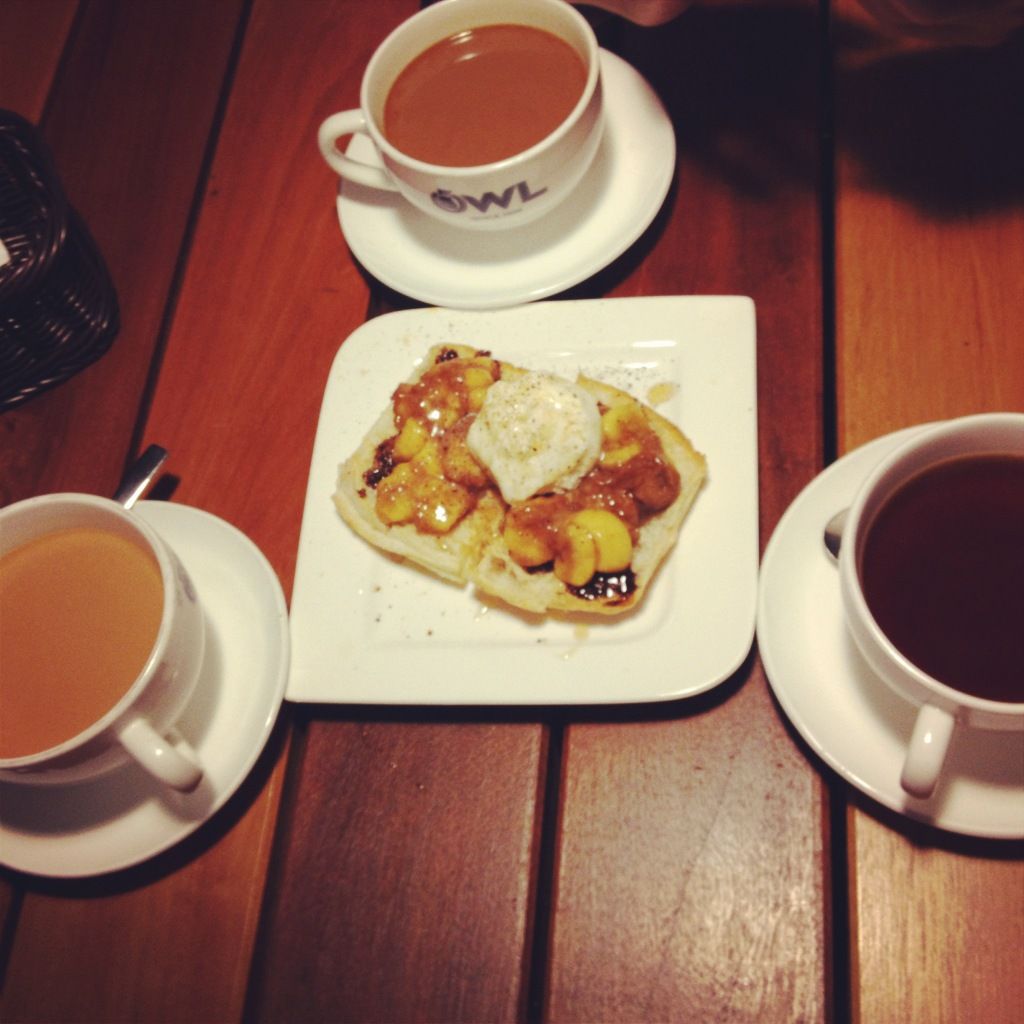 One of my best shots for the night. There were aplenty, of course.
And I hereby declare that I am the best photog amongst us three! =D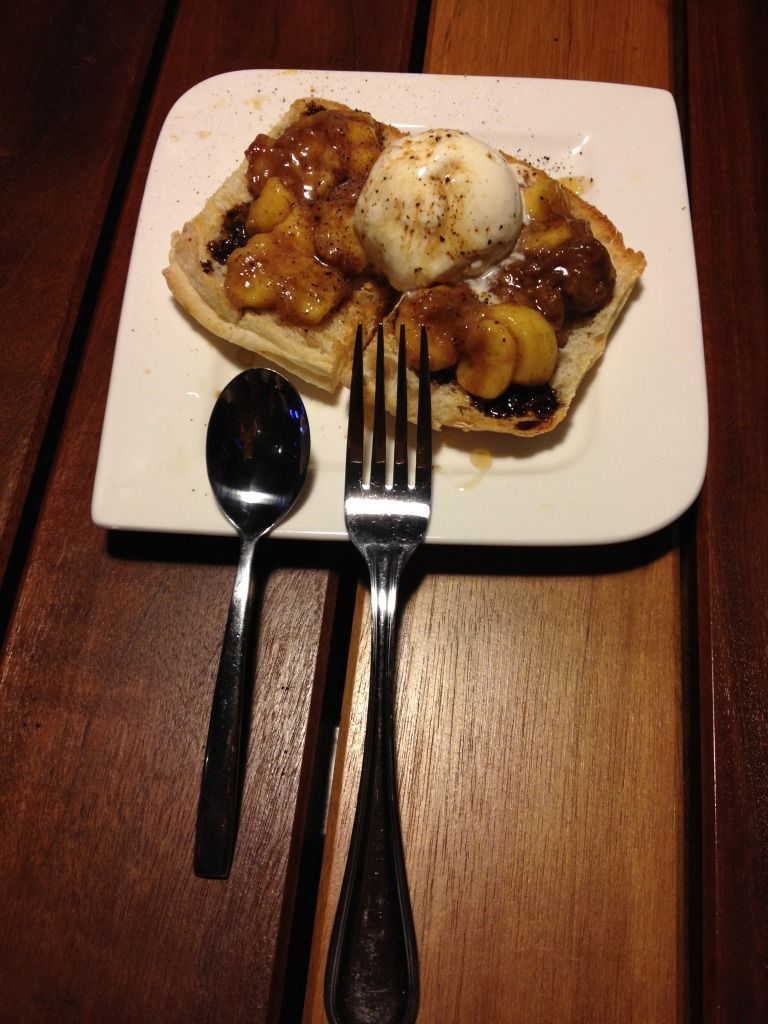 Some random pictures below.
OOTD: Peplum top from The Stage Walk and floral culottes from ASOS and denim shorts from Jeans West.
Dinner with Stan at Nolboo (Orchard Central)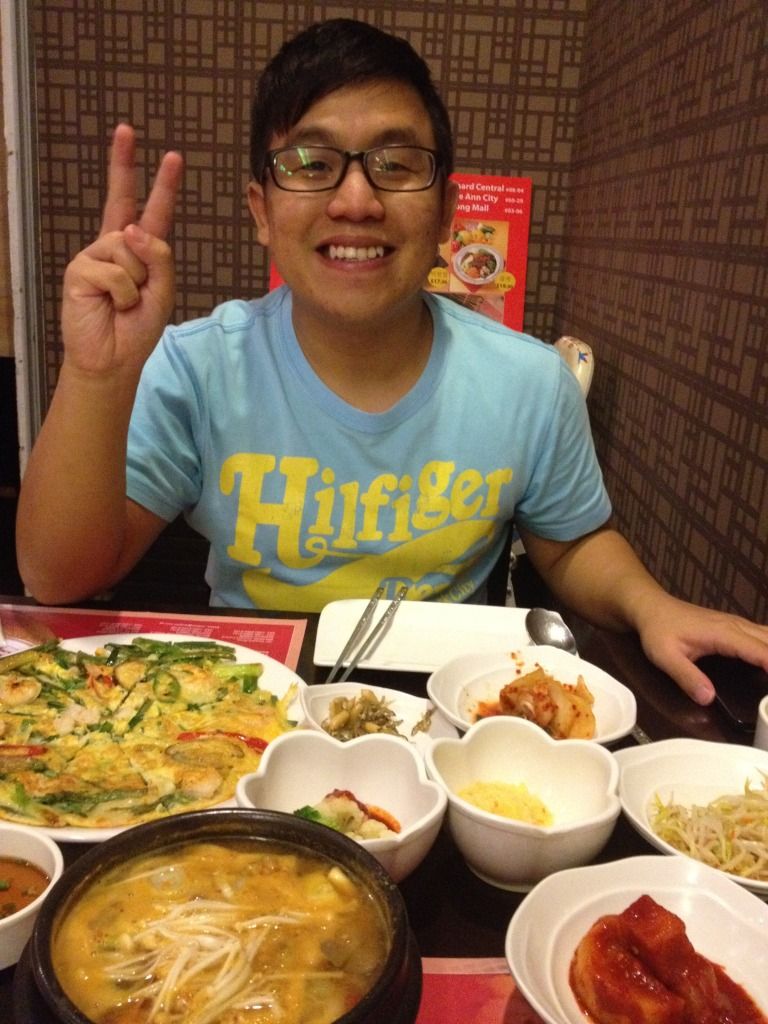 Aztec nail (sadly, done by a professional. Not me.)
Crazy pedicure colors again. I am always thinking of new colors to clash together.
That's all folks!
I am right in the midst of my peak period and the work keeps piling up, never ending because of some reasons that can't be spelled out.
So I might not blog so often. Boo.
Will still try to rant whenever I can. I better get well soon.....